Li Yinuo, one of the three founders of the ETU School, said she and her peers learned from other innovative schools throughout the founding process. One of their models was AltSchool, an educational startup that features personalized study and which Li's eldest son attended for a year before the family returned to China. The school was established in San Francisco by Max Ventilla, one of the founders of Google Plus, in 2014.
Li said ETU is different from AltSchool: "ETU pays greater attention to the teachers' personal and professional growth."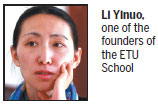 She believes teachers play a key role in children's development, particularly very young children. "Good teachers have a long-lasting, positive impact on children's lives," she said. That's the reason the professional development of its teachers is central to the ETU approach.
To empower the teachers, the school combines professional development philosophy and practices from the world of business with the needs of the teaching profession, creating a competent and professional development model.
ETU also has an in-house 40-strong information technology team. That may seem disproportionate, given the number of teaching staff, but the team is employed to improve the quality of teaching via technology. So far, it has developed an IT platform and an app that allows teachers to record events in the classroom, communicate with parents and build an audio-visual library of scenarios to help train the teachers and aid their professional development.
Brad Walsh, who teaches – in his own words – "everything" at ETU, said the strong support given to the teachers was the reason he joined the staff.
"What makes me feel very excited here is that the school has a system to help teachers be innovative in their teaching, and we have a big say in terms of what to teach and how to teach," said Walsh, who taught in schools in the Chinese mainland and Taiwan for more than nine years before joining ETU.
Every day, before he joins his class of 19 kindergarteners, the Canadian national has to make comprehensive preparations with teachers of other subjects to find the best way to present content in project-based learning classes. The approach sees different subjects melded together into a project, and the students use the skills they have learned to solve real-world problems.
According to Walsh, this semester's project involves building a garden in the school. That will require teachers across all subjects to meet regularly to discuss their progress and reflect on lesson plans to ensure the students will be able to apply all their skills and knowledge across a range of subjects.
For example, they will be taught to calculate the optimal amount of land they will need to build the garden, dig up a lawn, design a fence and make signs to protect it, he said.